uPVC Windows and Doors for Edinburgh and Lothians
Lock Solid Joinery Specialise in all kinds of uPVC Doors and Windows.
If you're looking to buy for the first time or looking for an upgrade or repair in Edinburgh and Lothians call us!
---
We're uPVC Specialists
Lock Solid Joinery are based in Musselburgh, cover Edinburgh and Lothians and have many years of experience in all aspects of uPVC doors and windows.
We work in both residential and commercial properties and offer a first rate service at competitive prices without ever compromising on quality of work or service. When it comes to uPVC doors and windows we do it all, new fits, upgrades and repairs.
If you have lock trouble our Qualified Locksmith can replace or repair any type of lock. You can also have various parts of doors and windows repaired or replaced. If you are looking for a new fitting or upgrade you can have us supply them too!
We care a great deal about customer satisfaction and are fast growing a reputation for our professionalism and high standard of work. So if you're a home owner, landlord, property developer or any type of business needing any work done with uPVC doors and windows get in touch!
We give free advice and you can also request a free estimate.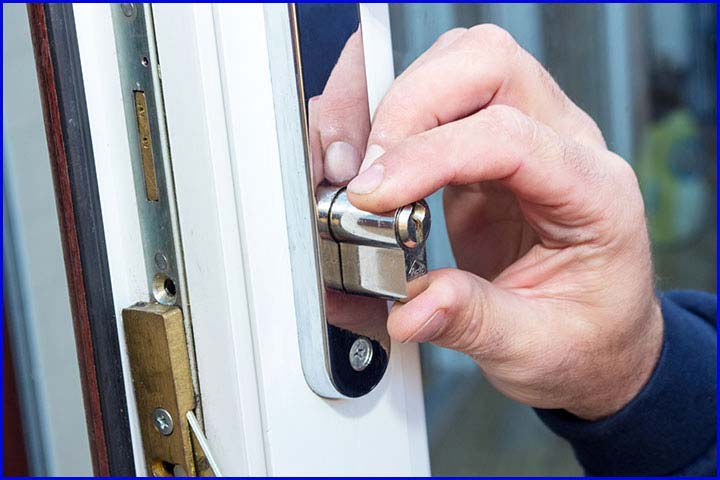 ---
uPVC Door and Window Fitting
uPVC doors and windows have become so popular over the years, there are now more manufacturers of them than ever before giving the customer lots more choice. We offer upgrades and fittings of new doors and windows from a broad selection of designs.
Our doors and windows meet all the safety regulations and security standards you should expect and come with guarantees. They are sourced at trade prices from our trusted suppliers which allows us to give you more value for money.
If you would like us to do both the supplying and the fitting we can offer you a discount. You can of course just have us fit any doors and windows you wish to purchase yourself and we can give you some advice on that.
Lock Solid Joinery have supplied and fitted uPVC doors and windows all over Musselburgh, East Lothian, Edinburgh City, Midlothian and West Lothian, but also in a few places out of our locality. So if you are outside of the Lothians and have a job to offer we would like to hear from you too.
Some of the uPVC Doors We have Fitted in Edinburgh and Musselburgh
A new front or back door can totally transform the entrance(s) to your home. Coming in so many styles and with many features, why wait until your existing door needs replaced? All the doors we can supply and fit come with Multi-Point Locking Systems as standard and improve energy efficiency, they also come with a 10 year guarantee.
So, if you're in Edinburgh and Lothians and are looking to enhance the front or back of your home give us a call to discuss your options.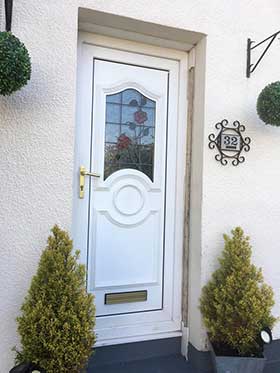 Front Door to be replaced in Edinburgh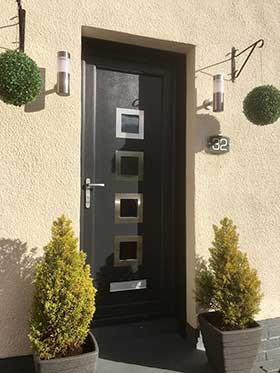 New Door Fitted along with a Couple of Lights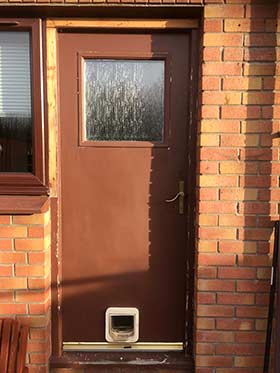 Back Door to be Replaced in Musselburgh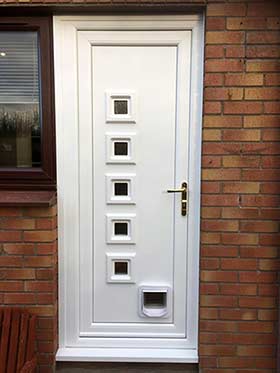 New Door Fitted Complete with Cat Flap
---
Various Types of uPVC Door
With a huge array of styles and sizes there will always be something that meets your taste and requirements. They are available in various options of panels, glass, colours and designs.
You can also choose to have the door hung on the left or hung on the right and have it made to measure. The doors we can supply are built with security in mind and come with multi-point locking systems and anti-lift hook locks as standard. They are built to last and built to help keep the heat in your home, helping you to keep your heating bills down!
So whether you are needing a new door fitted for a new build or just want to replace an existing door give us a call. We are happy to visit you to go through your options and take some measurements in a free consultation with no obligations.
The following pictures (for illustration purposes) show just some of the options available. We have a lot more to offer so get it touch if you would like to see the range.
uPVC Front and Back Doors
Front doors can be narrow or wide, they can have a window panel to the left or right or on each side. You can choose to have a large window or small window panels in the top half, a cut out design with glass or no glass at all.
There are many traditional and more modern designs to choose from and they don't just need to be white, your uPVC door can also have a colour or timber effect finish!
Front Doors
You can have them plain, with panels, half glazed. fully glazed, in a traditional design or modern.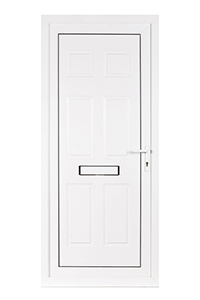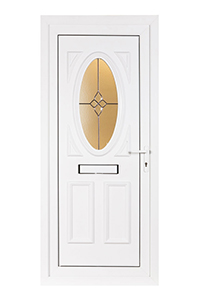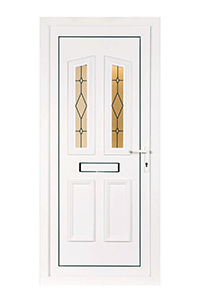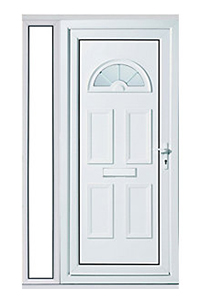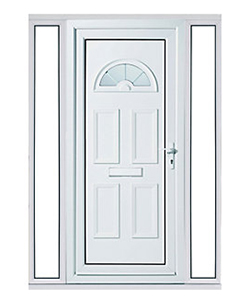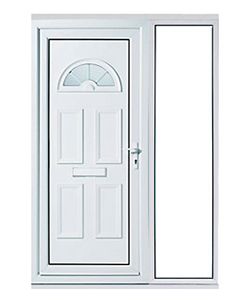 Timber Effect Front Doors
There are various types and colour of wood effect with a realistic look.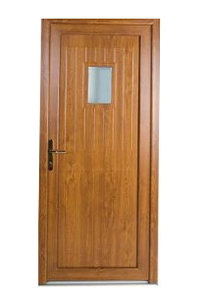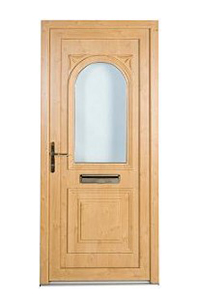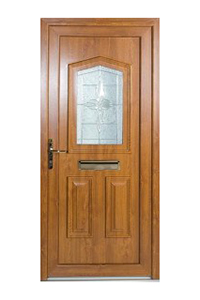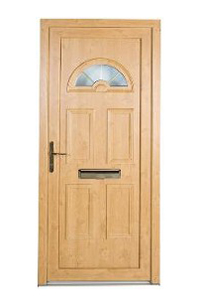 Coloured Front Doors
If you're looking for something other than white or cream you can have you're favourite colour.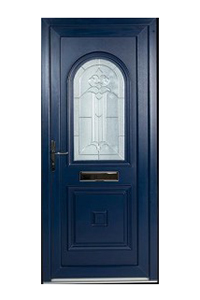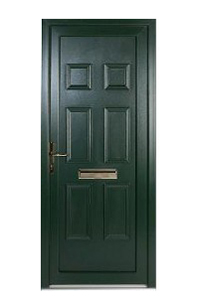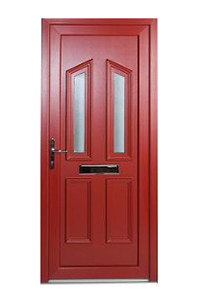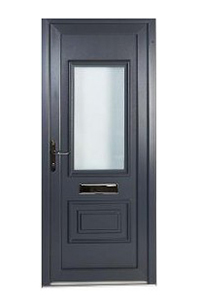 Back Doors
As with the front doors these too can come with panels, half glazed or fully glazed with plain glass or obscure glass.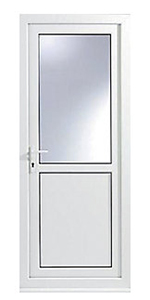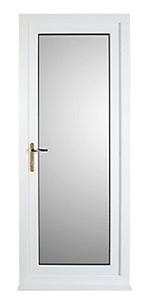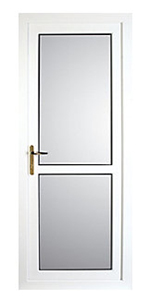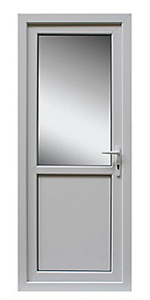 uPVC Patio and Conservatory Doors
Most people opt for glass doors for their patio or conservatory, turning them into large windows to gaze into the garden as well as giving access. You can have just a regular glass door for your patio or conservatory but by going for something a little bigger can really help to open up that space.
French Doors are hinged double doors usually opening outwards, giving you double the space of a regular door and are a very popular option. Another option is to have a large Sliding Door that can save valuable space. You can also have Bi-Folding Doors in which the glass panels are folded to open it.
French Doors
French doors can come with or without side panels and can vary in width.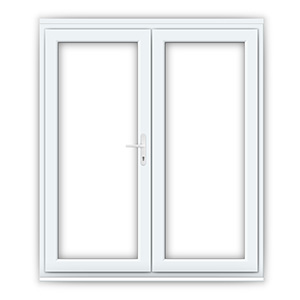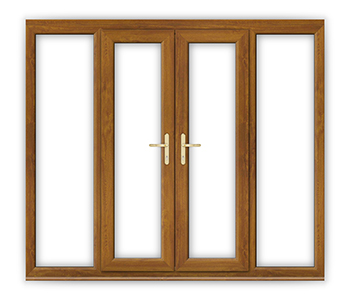 Sliding Doors
If you're limited in space sliding doors are an ideal solution.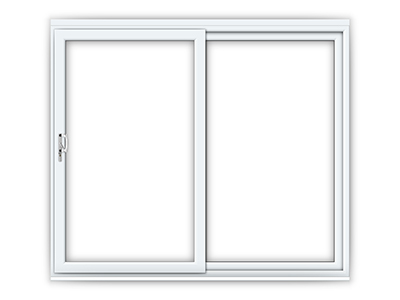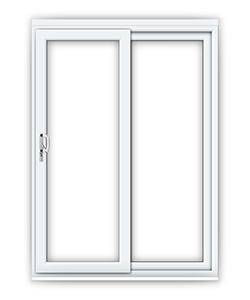 Bi-Folding Doors
Bi-Folding doors are another great way of saving space.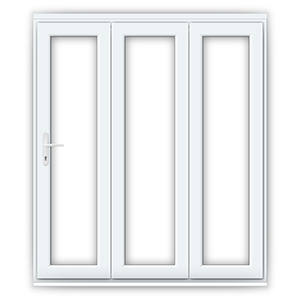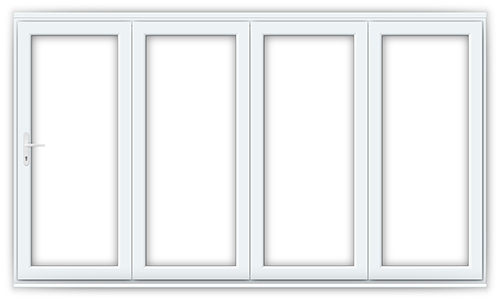 ---
Various Types of uPVC Window
We supply various types of uPVC windows in a number of different designs you can choose from. Coming with high quality locks, handles, hinges and mechanisms they vary in design but all share the same qualities.
So for a 'Grade A' window that's durable, easy to clean, secure and energy efficient you can't go wrong with our uPVC windows range. You can have them opening inwards, opening outwards, hung from the top, side or bottom.
uPVC windows can be made to measure and like our doors can come in various colours and wood effects. Many of them come with espags, which are multi-point lock systems you unlock using a key normally in the handle.
All of our uPVC windows have double glazing and are energy efficient, you can also choose to have secondary glazing fitted!
Whether you want all your windows replaced or just the one, we are happy to come give you a free consultation. If you're a project developer or building new houses we are available for those larger jobs too.
The pictures below (for illustration) show the different types and just some styles, to see our full range just get in touch.
Casement Windows
uPVC casement windows open outwards and can be left hung, right hung or both and can come top hung, bottom hung or not opening with an awning window (top hung) at the top. They come in various sizes right down to one small window.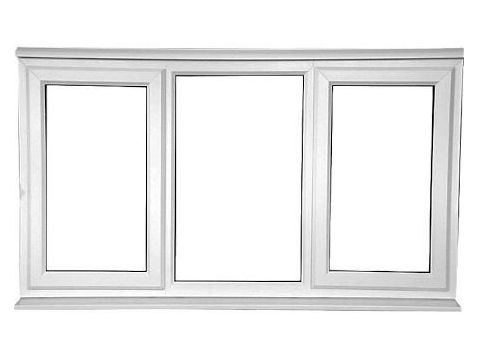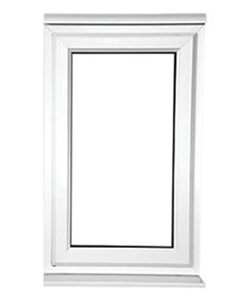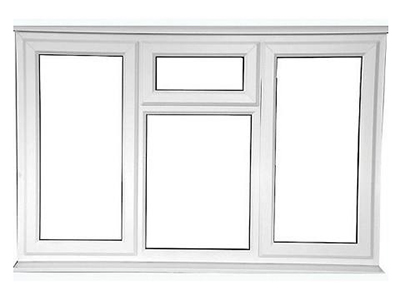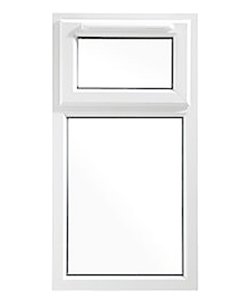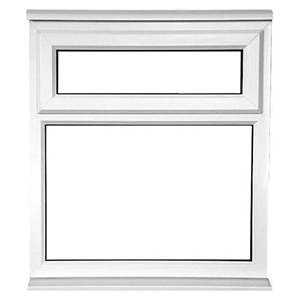 Bathroom Casement Windows
For the bathroom you can have obscure glass uPVC casement windows which let in lots of light while protecting your modesty when in the shower.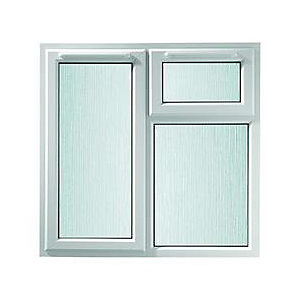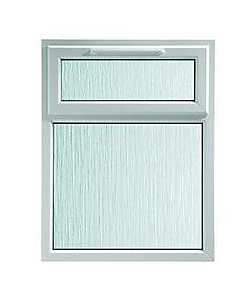 Sliding Sash Windows
uPVC sash windows are similar to the casement window but slide open, either bottom half only or both halves. They can also tilt open inwards allowing for easy cleaning of the outside. Sash windows can be two panes or multiple panes.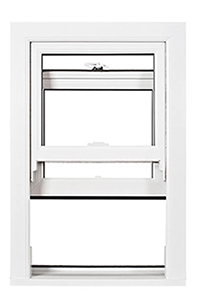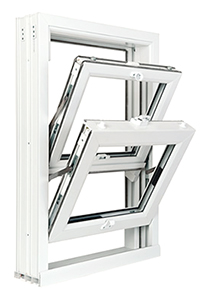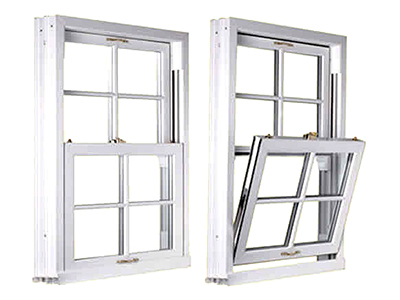 Tilt and Turn Windows
As the name suggests, uPVC tilt and turn windows can tilt inwards opening at the top and hinged at the bottom to let a little air and can be opened fully inwards hinged on the side for easy cleaning. These windows easily switch between the two opening mechanisms at a turn of the handle and also come in a variety of designs.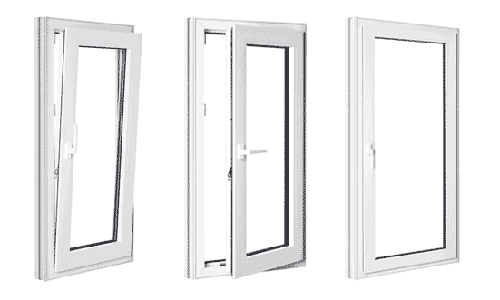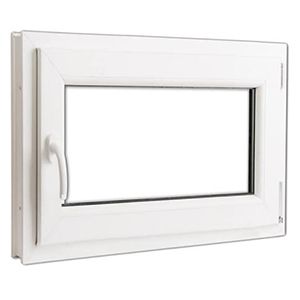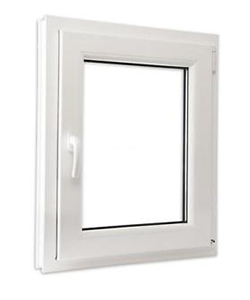 This is just a small selection of the types of windows we can supply and fit. If you're looking for other types such as windows or skylights for conservatory roofs and attics please get in touch.
---
uPVC Door and Window Repairs
Although durable and built to last, there are times you may require a repair on your uPVC door or window. Parts can be accidentally damaged, damaged by storms, vandalised and also damaged through a break-in or someone attempting one.
Our professionally trained and highly skilled fitters can also do all kinds of repairs. It doesn't matter if you're a previous fitting customer benefiting from our after care service or a new customer with a door or window problem, we're here to assist you.
We're based in Musselburgh and cover East Lothian, Edinburgh City, Midlothian and West Lothian. If you are in one of the areas we cover and have a problem that prevents you from properly closing your door or window making it not secure just pick up the phone, we have an emergency service and are on call 24/7!#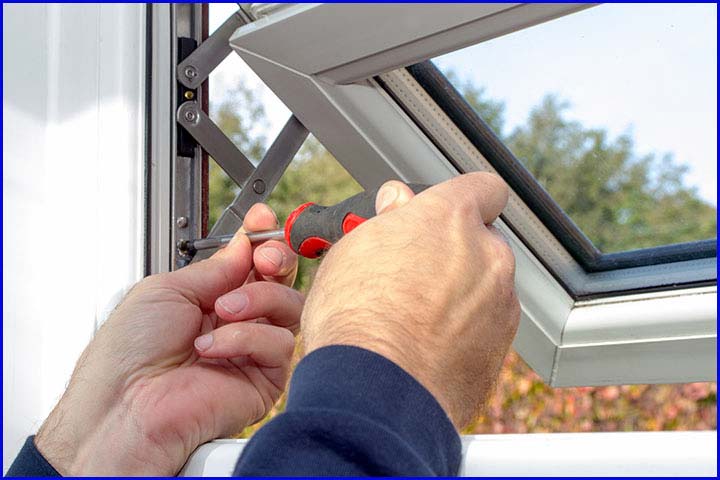 ---
uPVC Door and Window Locks
Espags, multi-point locking systems and cylinder locks are industry standard, coming built in to most uPVC doors and windows. These locks are generally secure and reliable, we say 'generally' because of the fact many people have had their doors and windows for many years now.
In recent years house-breakers have found new ways to get past some locks that some people still see as secure! If you are in any doubt we offer free advice on security with no obligations.
What is a Multi-Point Locking System?
A multi-point locking system is built into uPVC doors and has a minimum of 3 locking points, many have more. All of the locking points lock simultaneously when you turn your key thanks to a series of metal strips or rods connecting all the points to the locking mechanism.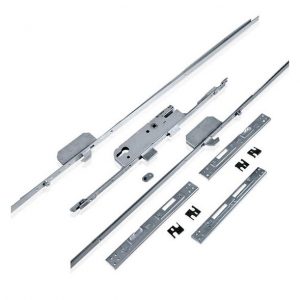 What is an Espag?
An espag (full name espagnolette) is a type of multi-point locking system, mostly used in windows and fitted as a long strip on the locking side of a window. Turning the handle (which can also take a key) locks the multiple points which are often studs.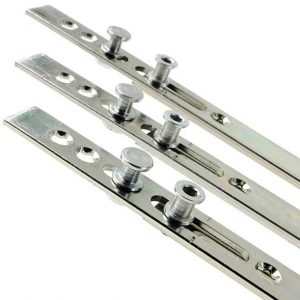 What is a Cylinder Lock?
A cylinder lock has the keyhole and tumbler lock pins contained in a cylinder and are found on many uPVC doors. They turn inside with the turn of a key to move locking bolts, though are independent from them.
Older Type Cylinder Locks are No Longer Secure!
Over the years house-breakers have found new ways of getting past the once considered secure regular cylinder lock! Intruders can pull out and then simply snap a cylinder lock in under a minute using common tools. They can also use specially made keys known as bump keys that can unlock pin tumblers, other techniques can include picking and drilling.
Thankfully there have also been advances in design, materials and technology in locks over the years and we highly recommend a cylinder lock from Cisa's top of the range.
Cisa Anti Snap, Bump, Pull and Pick Cylinder Locks
We're proud suppliers and fitters of Cisa's Astral S cylinder lock.
Cisa's Astral S Cylinder Lock is anti-snap, anti-bump, anti-pull and anti-pick meaning they can resist many of the techniques used by thieves! They can come with 10 pins on 2 rows that give 1,600,000 combinations and have a hardened steel bitting system making them drill resistant.
Where they differ from other secure cylinder locks is that they come with a code card. You must show this card (along with your ID) when wanting a key cut.
Read more about this lock and get its full specifications on our Locksmiths page.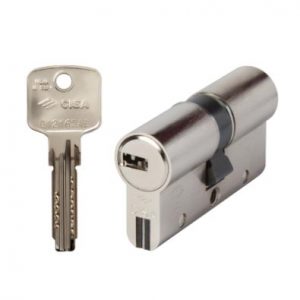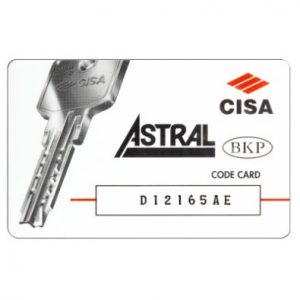 ---
Replacement Parts
Besides locks there are many other parts of uPVC doors and windows that can be either repaired or replaced.
Whether through accidental damage or excessive wear and tear some parts may need some attention over the years, and should be addressed before they get worse.
We're here to assist you and that includes the smaller jobs!
Handles, Hinges, Rubber Seal and Letterboxes Can All Be Replaced


---
Some of What We Offer
Anti-Snap/ Bump / Drill / Pick Cylinder Locks
Multi-Point and Other Locking Mechanisms
Window and Door Hinge Replacements
Fitting of Window and Door Handles
Window Espag Locking Mechanisms
Supply and Fitting uPVC Windows
Supply and Fitting uPVC Doors
Replacement of Various Parts
Free Estimates and Advice
24/7 Call Out
---
Free and Friendly Advice
Get free and friendly advice from a uPVC Specialist. If there is anything you are not sure simply contact us, all enquiries are welcome. Where needed we can also give you a free consultation at the premises to be worked on.
Call 0131 653 6586, email info@locksolidjoinery.uk or use our Contactform.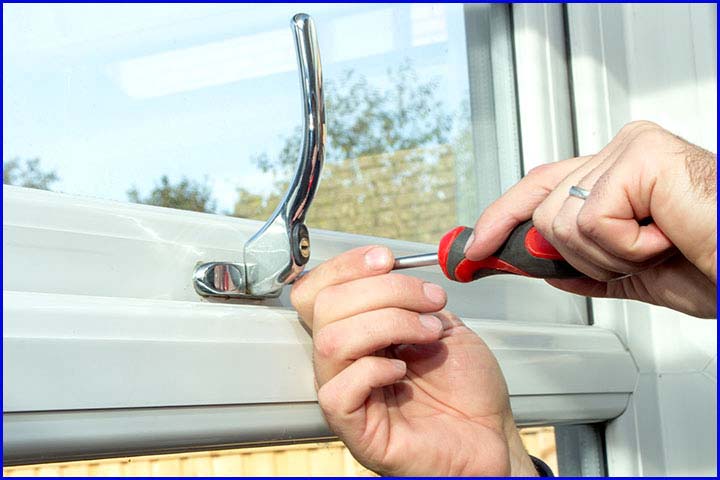 ---
Emergency uPVC Specialist
If you've lost your keys, have a key suck, a lock that's malfunctioned or have suffered a break-in we can help. We can also help with other problems with your uPVC doors and windows that will result in your property being left unsecure, so if in doubt give us a shout!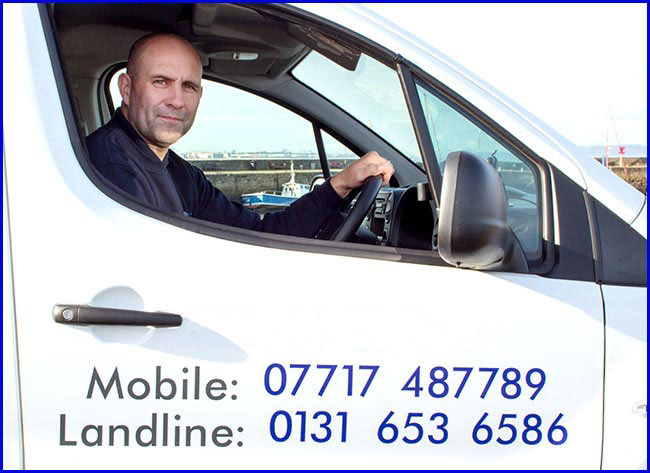 Fully qualified and insured you can fully trust Lock Solid Joinery to get the job done!
---
For the jobs that require more than a uPVC Doors and Windows Specialist we have other services you may benefit from.
---
Share This Page
[addthis tool="addthis_inline_share_toolbox"]